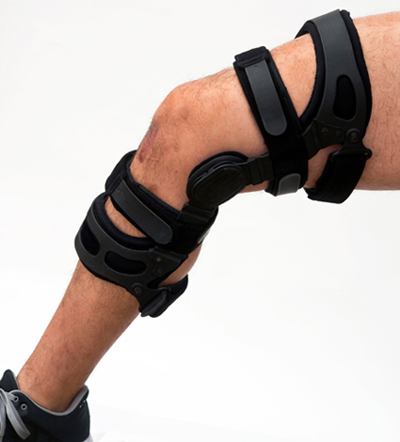 Custom Made Knee Braces
DonJoy Defiance III knee brace
DonJoy Defiance III knee brace is the number one world's popular custom knee brace worn by many professional athletes including members of the US Ski Team and World Champion Big Wave Surfer Garrett McNamara.
Recommended for professional athletes and others for
High collision sports, like football, motocross, or skiing
Water sports like surfing, wakeboarding, or kite surfing
Recover from ACL and other knee ligament surgeries
Support at Trillium Rehab
When people order a DonJoy Defiance III knee brace, you get the opportunity to be custom fitted by one of the DonJoy bracing experts. Upon placing your order, Trillium Rehab will schedule an appointment with a DonJoy representative to take your measurements.
Sizing & Measurement
One of the DonJoy bracing experts will come to Trillium Rehab to take your measurements. DonJoy will then custom manufacture a brace that fits your exact measurements.
Your brace will be delivered approximately one week from the date your measurements are taken.
This perfect fit custom made orthotics from DonJoy ensures and guarantees
Application of maximum support where you need
Maximum protection and comfort during movement
Play your sport with confidence
Injuries treated and prevented using Defiance III knee braces
Moderate to severe ACL or PCL instabilities
Post ACL or PCL reconstructions
ACL / PCL combined instabilities (CI)
MCL / LCL instabilities
Hyperextension
Product Features and Benefits
Custom Fabricated Based on Your Measurements : The brace is manufactured to your exact measurements, which means the components of the brace align perfectly with your body ensuring maximum protection and comfort during movement.
Available in 3 Lengths : The DonJoy Defiance is available in 3 lengths: standard, short, and a short calf version for ski boot clearance.
Four-Points of Leverage Dynamic System : This patented technology was developed to reduce the strain on the ACL by distributing the load placed on the ligament via four points.

Click here to learn exactly how the Four-Points of Leverage works.



LowProFourcePoint Hinge Technology : Makes you less likely to suffer from an ACL injury because it reduces the amount of time your knee is in an "at risk position", enhances the Four-Points of Leverage by increasing the posterior load applied by the brace on the tibia, and improves your natural gait by applying progressive resistance before reaching a firm end point during movement.
Carbon Fiber Frame : This brace is both unbelievably strong and lightweight. You get the protection you need without feeling like you're being weighed down by your brace.
Anti-migration Supra Condyle Pad : Your knee brace will stay in place no matter how active you are.
Swivelling Strap Tabs : These tabs enable the brace to move with you.
Product Guarantee : This knee brace comes with a lifetime warranty on the frame and hinges, and a 6 month warranty on the soft goods.